Chicken Biriyani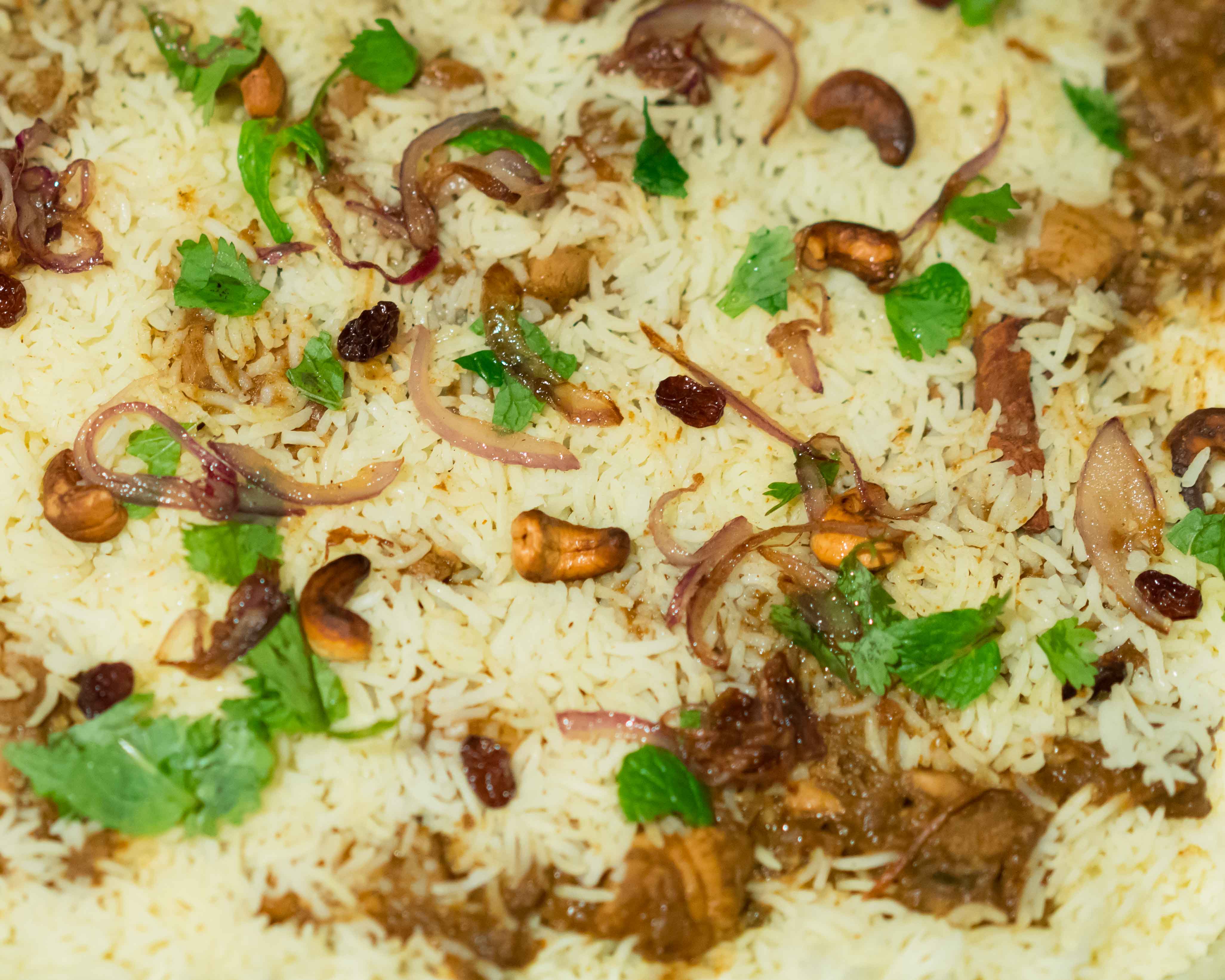 Ingredients
| Marination | |
| --- | --- |
| Chicken | 2 pounds |
| Coriander leaves (malli ila) chopped | 2 tbsp |
| Mint leaves (pudina) chopped | 1 tbsp |
| Biriyani masala | 3 tbsp |
| Salt | 1 tsp |
| Yogurt | 1 cup (150 gms) |
| Ginger paste | 1 tbsp |
| Garlic paste | 1 tbsp |
| Garam masala | 2 tsp |
| Lime juice | 1 tsp |
| Rice | |
| --- | --- |
| Basmati Rice | 3 cups |
| Cinnamon (karuvapatta) | 1/2 stick (2 inches) |
| Clove (grampu) | 7 cloves |
| Bay leaves (optional) | 1 leaf |
| Garam masala | 1/2 tsp |
| Turmeric powder | 1/4 tsp |
| Salt | 1 tsp |
| Water | 10 cups |
| Masala | |
| --- | --- |
| Onion | 2 nos big |
| Green chillies | 5 nos |
| Tomatoes | 2 nos big |
| Oil | 2 tbsp |
| Salt | 1 1/2 tsp |
| Biriyani masala | 2 tbsp |
| Garam masala | 1 tsp |
| Garnish | |
| --- | --- |
| Ghee | 2 tbsp |
| Cashew nuts | 15 to 20 nuts |
| Raisins | 15 - 20 nos |
| Onion | 1/2 cup thinly sliced |
| Coriander leaves (malli ila) chopped | 1 tbsp |
| Mint leaves (pudina) chopped | 1 tbsp |
Steps
Marination
Mix together all ingredients under marination, cover and keep aside for 30 minutes.
Cooking Rice
Wash Basmati rice 3-4 times, until water runs clear.
Take a large pot big enough to hold the washed rice and 10 cups of water.
Put all the ingredients under Rice in the pot. Bury the cinnamon, bay leave and clove under the rice.
When the water starts to boil, turn the heat down to low and cook the rice for 15 min. We don't want to cook the rice all the way in this step or we will end up with overcooked rice after the final baking step.
Making Masala
Thinly slice onions, green chillies, tomatoes.
In a deep bottom pot, heat oil, add sliced onions and chillies. Sauté till the onions are brown, add salt to sweat out the onions and speed up the cooking.
Garnish
Heat Ghee in a small pan.
Roast raisins the ghee for 30 sec to 1 min until it turns golden brown.
Remove the raisins from the pan and keep aside.
Roast cashew nuts in the same ghee for a few minutes and keep aside.
Put the thinly sliced onions in the hot ghee, fry it till its turns golden brown and keep aside.
Baking
Pre heat the oven to 350 F.
Layer the chicken and rice in a baking tray or disposable aluminum container. Add a layer of chicken on the bottom of the container, add a layer of rice on top, add a layer of chicken on top of that, then rice until you have all your rice and chicken in the container.
Garnish the top with few coriander, mint leaves, roasted raisins, roasted cashew nuts and fried onions.
Drizzle a teaspoon of ghee on top.
Cover the container with aluminium foil and bake for 1 hour.