Kerala Kadala (chickpea) curry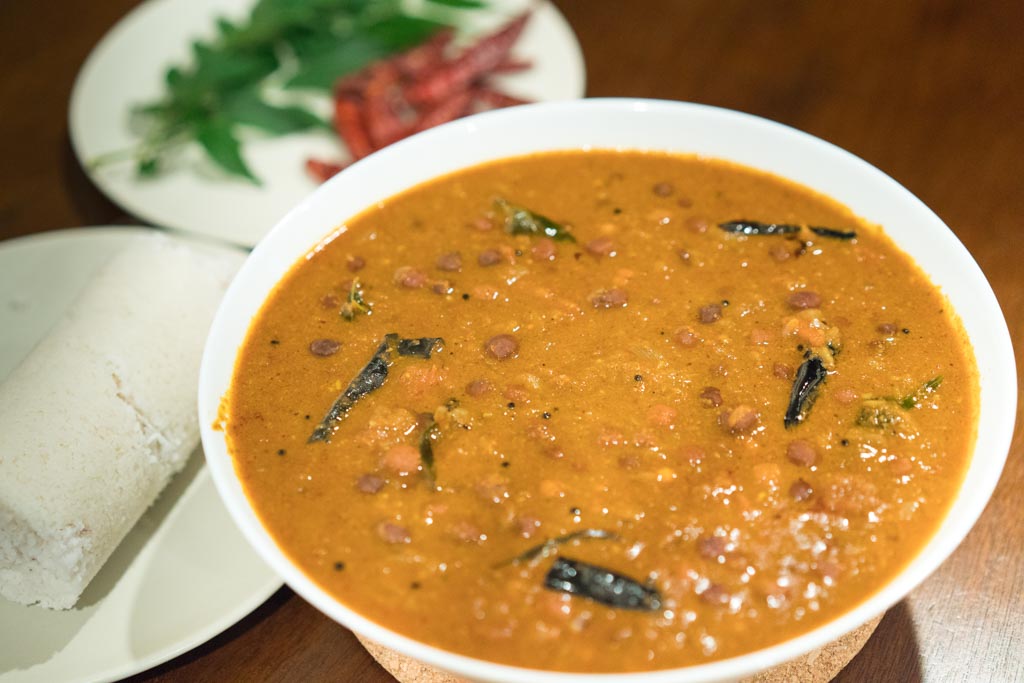 Ingredients
| Pressure cook | |
| --- | --- |
| Brown chickpea (kadala) | 1 cup |
| Turmeric powder | 1/2 tsp |
| Chilly powder | 1/2 tsp |
| Salt | |
| Roasted Ground Masala | |
| --- | --- |
| Grated coconut | 1 cup |
| Green chilly | 2 numbers |
| Ginger | 1 inch |
| Garlic | 4 cloves |
| Shallots | 4 numbers |
| Turmeric powder | 1/2 tsp |
| Chilly powder | 1 tbsp |
| Coriander powder | 1 tbsp |
| Fennel seed powder | 1 tsp |
| Garam masala | 1 tsp |
| Masala | |
| --- | --- |
| Onion | 1 number |
| Curry leaves | 5-6 leaves |
| Salt | |
| Coconut oil / vegetable oil | |
| Seasoning (tadka) | |
| --- | --- |
| Mustard seeds | 1/2 tsp |
| Curry leaves | 5-6 leaves |
| Dried red chilly | 2 numbers |
| Coconut oil/vegetable oil | |
Steps
Wash chickpeas and soak in water overnight for at-least 10 hours. Overnight soaking is a must to get delicious kadala curry. The chickpeas will expand when soaked in water so use a big enough bowl.
Wash the chickpeas again. Add the chickpeas and 3 cups of water to an Instant Pot along with ingredients listed under 'Pressure cook'. Add more water if required, the chickpeas must be well under water. Set the instant pot to Manual - High pressure for 20 min in sealing mode. Let the pressure release naturally when it's done.
In a nonstick pan on mid flame, add grated coconut, green chillies, ginger, garlic and shallots. There is no need to slice them. Stir the the ingredients frequently to avoid burning the coconut.
When the coconut starts to turn golden brown,lower the flame and add turmeric, chilly powder, coriander powder, fennel seed powder and garam masala. Stir fry till the raw masala smell goes away, around 2-3 minutes. Again make sure the coconut does not get burned. Switch off the flame and remove the pan from stove to avoid burning the coconut with residual heat.
Wait for the mixture to cool. Once the mixture is cool, grind it to a nice fine powder in a mixer.
Heat oil in a pan, add sliced onions and curry leaves. Saute it till onion turn soft and translucent. Adding salt helps cook the onions faster.
Add the ground masala, tomatoes and half a cup of water. Cook until tomatoes are done.
Add the cooked chickpeas and 2-3 cups of water (same water that chickpeas were pressure cooked in). Adjust salt and bring it to a boil. Lower the heat and let it cook and thicken for 10 minutes.
Seasoning - heat oil in a small pan, add mustard seeds wait for it to splutter. Add curry leaves, dried red chillies and saute for a minute. Pour it on the curry. Kadala curry is ready, it's best enjoyed when paired with soft puttu. The curry is also a good side for chapattis.